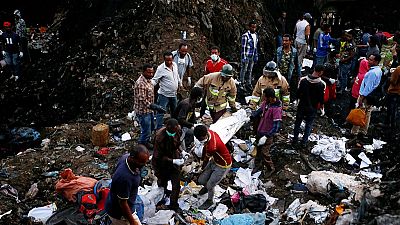 Emergency workers in the Ethiopian capital Addis Ababa searched through a mountain of garbage for the fifth consecutive day on Thursday as the death toll from a landslide at a rubbish landfill site rose to 115.
The Horn of Africa country has declared three days of national mourning for the victims of the disaster that occurred at the 50-year-old Reppi dump on Saturday evening.
Two bodies were uncovered on Thursday morning, rescue workers and residents taking part in the search said, a day after a government spokesperson raised the toll to 113, 75 of whom were women.
"As the number of missing people is still high, we expect to pull more bodies out today and in the coming days," an emergency worker told Reuters.
Residents of the area say at least 80 people remain unaccounted for. Dozens of victims have so far been buried at the Abune Aregawi Church nearby since Tuesday.
Hundreds of people live near the dump, the city's only landfill site. Some of the victims scavenged for food and items that could be sold, such as recyclable metal.
The landslide destroyed dozens of homes. Officials in the capital say they plan to resettle most of the tenants and build a waste-to-energy plant.
Ethiopia is one of Africa's fastest growing economies, but the drive to industrialize has also stoked discontent among those who feel left behind.
Source: http://www.africanews.com/2017/03/16/ethiopia-death-toll-in-addis-ababa-rubbish-dump-landslide-rises-to-115/
Second Source: http://www.aljazeera.com/news/2017/03/landslide-ethiopia-garbage-170312105503073.html
I thought this a  post relating to discussion points of how much more disasters affect lesser developed countries. Without the significant resources for rescue aren't available as in MDC's, the loss of life and injuries will be more significant. The death toll in this event has grown since the initial occurrence as would normally be the case. I'm not sure there would be an adequate accounting of how many people might have lived in this area of slums that was built on a hill near the site of the city's only dump. It would seem that allowing people to live there would be increasing their vulnerability. According to my secondary source, the landfill has been in use for decades and dumping had not been done there for sometime. Another landfill was being opened in another part of the country and farmer s protested there and re-use of this site began again. The cause is likely the increased land disturbance caused by resuming the active use of this landfill.  This was kind of a natural occurrence (mass wasting) but caused by the actions of man, utilizing this method of trash disposal. Also by allowing people to settle there, increasing risk and vulnerability.  There were approximately 30 plus makeshift homes of squatters there according to the article. Its possible there will never be an actual accounting of how many people were really there and ultimately how many might be dead.